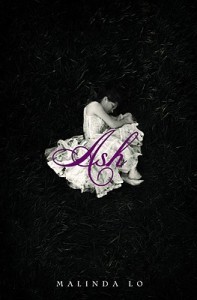 Title: Ash
Author: Malinda Lo
Format: Print (ARC I picked up at ComicCon in 2009 and didn't open until 2014)
Synopsis: In the wake of her father's death, Ash is left at the mercy of her cruel stepmother. Consumed with grief, her only joy comes by the light of the dying hearth fire, rereading the fairy tales her mother once told her. In her dreams, someday the fairies will steal her away, as they are said to do. When she meets the dark and dangerous fairy Sidhean, she believes that her wish may be granted.
The day that Ash meets Kaisa, the King's Huntress, her heart begins to change. Instead of chasing fairies, Ash learns to hunt with Kaisa. Though their friendship is as delicate as a new bloom, it reawakens Ash's capacity for love-and her desire to live. But Sidhean has already claimed Ash for his own, and she must make a choice between fairy tale dreams and true love.
Entrancing, empowering, and romantic, Ash is about the connection between life and love, and solitude and death, where transformation can come from even the deepest grief.
Review: Ash is a really cool twist on the Cinderella story. It started out pretty slow and took me a few chapters to really get into it. What eventually drew me in was less of the plot and more of the characters, which are richly developed and multi-faceted. Though the story is based on Cinderella, Ash is not a traditional-princess type at all. She's strong, free-willed, and interesting. Her story is tragic, but I enjoyed the way she adapted to her situation and grew strong enough to make the choices that would set her free.
The love story that develops is not an at-first-site Prince Charming situation, but something much more realistic and engaging.
If you like fairy-tale retellings, especially ones that don't end quite as you expect them to, I think you'd like Ash.
GoodReads || Amazon || Audible