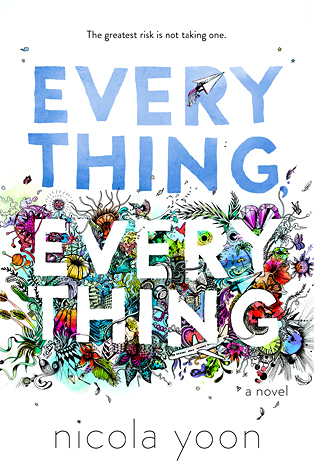 Everything, Everything
Author: Nicola Yoon
Format: ARC (Print)
Publisher: Delacorte Books for Young Readers
Release Date: September 3, 2015
Length: 320 Pages
Where I Got It: Book Expo America
Synopsis: Madeline Whittier is allergic to the outside world. So allergic, in fact, that she has never left the house in all of her seventeen years. But when Olly moves in next door, and wants to talk to Maddie, tiny holes start to appear in the protective bubble her mother has built around her. Olly writes his IM address on a piece of paper, shows it at her window, and suddenly, a door opens. But does Maddie dare to step outside her comfort zone?
Everything, Everything is about the thrill and heartbreak that happens when we break out of our shell to do crazy, sometimes death-defying things for love.
---
Review: Sweet Lord Cleopatra this book is wonderful, wonderful. It has all of the things that are good about young adult romance and very few of the overused tropes.
Maddie was diagnosed with Severe Combined Immunodeficiency (SCID) as a baby and has spent her whole life since in her home. People with SCID are basically allergic to anything and everything – you know, like Bubble Boy.
Maddie's whole house is  bubble, basically – her mom and her nurse, the only two people she ever has face-to-face interaction with (her brother and father died when she was a baby) – go through a sanitizing/disinfecting chamber before entering the house, there's a very fancy air filtration system, etc. She is in school online and talks with her teachers and tutors through Skype. She doesn't have friends beyond those she knows through Tumblr.
A new family moves next door and that changes Everything, Everything. By miming through their windows, then writing with dry erase, then moving to email and IM, Maddie and the boy next door, Olly, become friends. Then consider being more than friends – which is extra complicated since Maddie can't leave her house or touch any one.
I devoured this book in a few hours. I could not put it down.
This year has been a good year in reading for me and I keep finding myself declaring books The Best Book I've Read This Year. I feel like I've said it so much that no one is going to take me seriously anymore, if they ever did. So, I won't say that – though I'm thinking it -but I will say that this book will for sure be on my Top 10 List of the Year. Probably my Top 5. Maybe my Top 1. I think you should read it.
When the audiobook comes out, I'll listen to it – though there are some visual aspects of the story that would be lost. If they made a movie, I would cast Zoe Kravitz or Zendaya as Maddie –
(or Amandla Sternberg – I assume we have a few years before this happens)
and for Olly, maybe Colton Haynes? I don't know who is young and foxy other than JHutch and he isn't who I picture as Olly. Who are young hot actors? Anyway, I'd watch that movie.
My giant BEA haul left me with about 50 ARCs. I might get to 10 of them before their release dates. Maybe fewer because I might just re-read Everything, Everything 10 times instead. Nicola Yoon is going to be at this year's Decatur Book Festival and I'm seriously considering ducking out of Dragon Con for a few hours to try to meet her and let her know how special this book is to me.